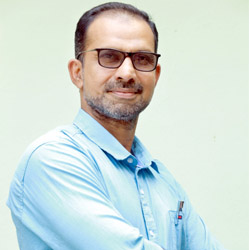 ABDUL GAFUR CHOZHIKAT
Profile
: Illathumthodi (House),
Kizhuparamba (P.O), Areekode (Via),
Malappuram (D.T), Pin: 673639.
Qualification (please mention degree onwards including all certificate courses)
AfzalUlUlama University of Calicut, 1993
L.T.T.C Board of Public Examination, 1995
M.A(Arabic) Aligarh Muslim University, 1996.
S.E.T 2000
B.A (Malayalam, Sociology) University of Calicut, 1999
H.S.A (Arabic) 29 years, PMSAPTM, ,Malappuram.
H.S.S.T (Arabic) 1 year, MVM HSS,,Malappuram.
Co. CurriculumActivities (Eg: NSS, IQAC)
Publications (Books, articles in journal)
Presentation (Seminars & Workshops)