A state level Arabic news reading competition has been organised by the dept.of Arabic, Ansar Arabic College on the Arabic Language Day and Ms.Hiba Rasheed(sullamusalam Arabic college) bagged the first place in the competition. Mr.shaheen Murshid (Bukhari Daàwa College,Kondotty) and Afra Shihan ( Al Jamia Islamiyya, Santhapuram) won the second and third places respectively. Prof. P Abdul Gafoor was the chief guest in the inaugural ceremony. During the session, college principal prof. C Ashraf, program codinator Dr. A.I.Abdul Majeed, prof. M.Abdulla Sullami, prof. Yusof Saqar Nadwi, prof.Abdurabb, Dr. C.Shanavas, Dr.C.Muhammed Rafi were addressed the audience. A cash prize of 5000/, 3000/, 2000/ and certificates have been distributed to the winners respectively. Around 35 Students from different colleges and universities in Kerala have participated in the competition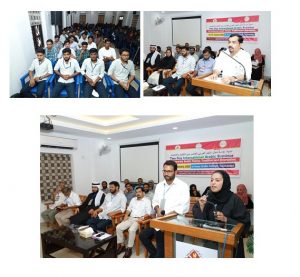 INTERNATIONAL SEMINAR ON "CONTEMPORARY ARABIC POETRY: TRADITION AND INNOVATION"  On 2020 January 28
Department of Arabic Ansar Arabic college Valavanur conducted international seminar on "Contemporary Arabic poetry: Tradition and Innovation "on 28 January 2020 jointly organized by department of Arabic Calicut university in association with Darul Yasmeen publications, UAE.
The international seminar conducted by PG and Research department of Ansar Arabic college Valavanur was very impressive. More than 200 students and scholars registered and attended the seminar. Dr Mariyam al Sheenasi, director of Dar al Yasmeen Publication, inaugurated the seminar. She talked about  the trends and tendencies in the Arabic poetry. And to emphasize the systems of new generation poetry, There were several papers presented in the seminar the poet from kuwait Dr Ali Masood al Kaydi led a session on "Contemporary Arabic Poetry: a Detailed Study". Dr Abid UP, Associate Professor Farook College, Calicut, presented a paper on "Arabic poetry in India ". The workshop is very fruitful and effective for every academic aspirant and scholar.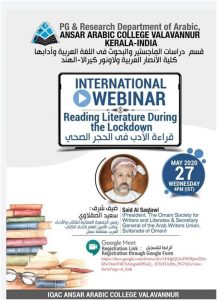 INTERNATIONAL WEBINAR ON "READING LITERATURE DURING LOCK DOWN"ON 27 MAY 2020
             An International webinar conducted by PG and Research Department of Arabic, Ansar Arabic College Valavanur was very impressive. Students and scholars from various colleges and universities registered and attended the webinar. College Principal Prof.C Ashraf presided over the session. Said Al Saqlawi, President ,The Omani society for writers and literature & secretary general of the arab writers union,Sultanate of Oman inaugurated the webinar. During his session, he introduced new books in Arabic literature and emphasized the system of reading during lock down. The Vote of thanks was proposed by Arabic department HoD Prof. Ibrahim Thorakkal. The webinar was highly informative and effective for students and scholars in the research area.